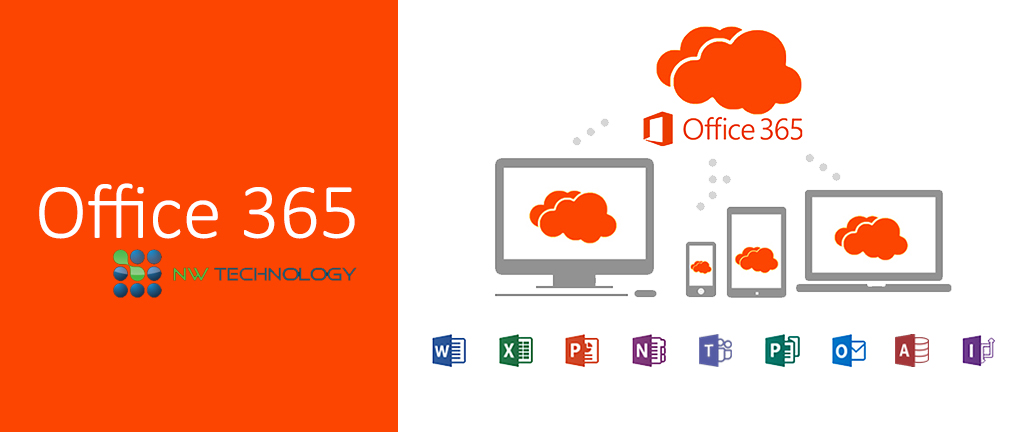 5 Office365 apps you need to check out
Email is really just the tip of the iceberg when it comes to the Office365, but the reality is most of the businesses that subscribe to this service are only utilizing a few of its tools. We've compiled a short list of some of our current 365 favorites as well as a couple we see some having serious potential.
What it comes with: Office 365 Business Essential, Premium
What it is:
Teams just hit the Office 365 ecosystem in 2017 but it's already making a big impression. Microsoft has combined the best aspects of many of its existing collaboration tools to create a powerful hub for seamless communication for even a multi-location organization to work together.
In this app you can create broad targeted Teams like "All Company" or "Design" and within those teams establish "Boards" which act as a more specific stream for communication on anything and everything related to that particular topic.
Teams allows you to share files, schedule meetings, and has chat and video conferencing options that will soon be replacing Skype for business altogether.
But one of the most noteworthy features of this app is its integration with all the other apps in the Microsoft Store. You can embed other Office 365 apps like OneNote or PowerPoint, but also programs outside of Office like Adobe, Hootesuite or YouTube, straight into your Team Boards.
What it comes with: Office 365 Business Essential, Premium
What it is:
Tedious, repetitive tasks go away with Flow. This automation tool lives up to its "work less, do more" campaign slogan by using workflow rules that take all those humdrum tasks off your plate.
Flow can connect Microsoft apps together to get tasks done with little to no effort on your part. Take HR, upon receiving a new hire you can have Outlook send them a personalized welcome email with their first round of paperwork using DocuSign. Once it's signed Flow triggers Outlook to send out their first round of training videos through StaffHub and upon completion schedules them for a training shift.
One of Flow's main target audiences is marketing professionals because it integrates social media sites and CRMs into a lead generating force that reacts to consumer's actions with minimal human input from your sales people.
What it comes with: Office 365 Business Essential, Premium
What it is:
StaffHub is a scheduling, training, communication tool all wrapped into one easy package. Once you create a team and start adding your employees, they have to ability to add their availability. You add and assign shifts and your employees have access to the schedule from their phones.
StaffHub is mostly managed via mobile app where employees can clock in and out, see their schedule, trade shifts, pickup open shifts and request time off. The app includes file sharing for easy on boarding and continued training, and a chat function for team members to communicate as well.
This app is most useful in settings where there is a lot of shift variability. Say goodbye to the days of changing a paper schedule and having to call everyone about the update. Adjustments can be made in real time and can notify either the whole staff or just those it effects.
We're still waiting for a few features for this program like the ability to determine different geo-locations for clocking-in depending on what team you belong too. Currently everyone has to have at least an essentials Office 365 account, which for some industries isn't realistic, but we're excited for its potential.
What it comes with: Office 365 Business Essential (online version only), Premium
What it is:
OneNote is the closest thing to a real paper and pen notebook that you can get digitally. Free-flow typing, real-time saving all organized into actual color-coded tabs, just like you did in middle school. But instead of carrying around a 5-subject notebook with you everywhere you can store infinite notebooks, all in your back pocket.
Some of our favorite features include web page snipping, verbal dictation, and a quick research tool. OneNote's math tool allows you to type out an equation it can then solve for you. There's also a pretty accurate ink to text tool for quickly jotted notes you'd like to clean up later.
OneNote is great for an organization fighting the potential loss of tribal knowledge. It easy to update, completely searchable and shareable throughout your organization. If you're not already using it definitely give it a try.
What it comes with: Office 365 Business Essential (online version only), Premium
What it is:
OneDrive is a cloud storage system. While cloud storage in and of itself isn't anything novel, OneDrive offers syncing capabilities that are invaluable to any on-the-go business person. If you find yourself constantly switching from laptops at home, to your office desktop, to a mobile device, having an app that gives you access to all your documents on any device is essential.
One of its most convenient features is the option to set it to auto-sync from specific folders on your workstation. You won't have to save a file then upload it to the cloud to ensure it makes it onto your drive.
Again, this is a fairly basic tool, but one that should be a standard for any business.