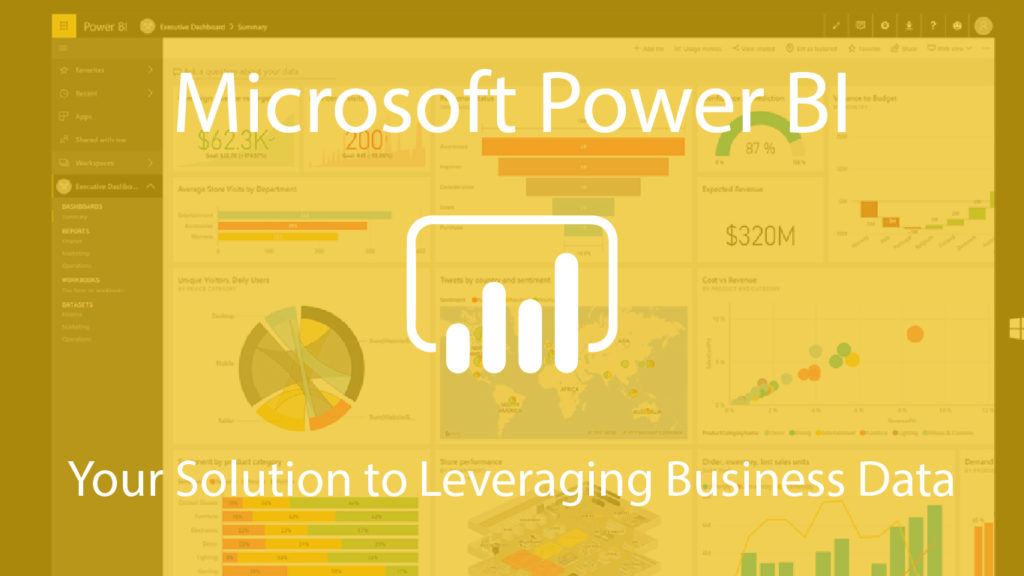 Microsoft Power BI – Your Solution to Leveraging Business Data
Data tracking is often considered a mundane and underappreciated chore all businesses rely on. It can be tedious, and lacks any real recognition, but every aspect of your core businesses function is improved when you have a solid foundation of data to help make key decisions. Whether you're a for-profit business collecting sales numbers, or a health organization tracking case data, being able to convert raw data into valuable information and insights is crucial to accomplishing organizational goals. To do this, you need a way to present this information to other stakeholders clearly, and without drowning them in thousands of Excel data cells, especially when you may not have the opportunity to present this information in person.
Microsoft Power BI is the tool many organizations rely on to accomplish that goal; you may have seen it pop-up across government websites recently tracking the COVID-19 pandemic. Despite its claims of an easy-to-use interface, that level of data interpretation has long intimidated the average user, so let's explore a little bit about what Power BI is, what is can do, and how it can make a huge impact in your business.
What is Microsoft Power BI?
It's a user friendly way for organizations to gather and display data to the community, customers, or other members of their organization. Power BI can take the data you input and give AI powered answers to many business questions you have so you can come prepared with more than just raw data, but an understanding of what the data means.
Who can use Power BI?
The Pro version of Power BI is not one of the many apps included in your Microsoft 365 license. There is a free desktop version that's intended for smaller business and individuals, but if you want the full functionality of this tool, you'll need to pay a monthly subscription of $9.99 per month.
Other than that, if you feel comfortable navigating Excel, Microsoft promises an intuitive transition into Power BI.
What can you use Power BI for?
The possibilities are only limited to the data you have available. Power BI integrates with a number of other applications, but you can also import data from any spreadsheet. For instance, a very common use is sales reporting. Analysts can break down raw data into actionable information and key performance indicators (KPIs) and then display that information in a visual, easily understood format to present to executives, stakeholders, and other members of your organization. Display information such as:
Buyer demographics
Sales by time period
Sales by area
And other long-term buying trends
Where Power BI really goes above and beyond is in its ability to answer questions in real time. Power BI utilizes natural language interpretation so you can ask questions like "How many units did we sell in Wisconsin in June of 2020?" and Power BI will present you with information that answers that question based off the data it has. It can also interpret "what if" scenarios that allow for easy and virtually instantaneous projections based on available information.
Maybe for your business it isn't sales reporting you need but productivity reporting or customer experience survey results, Microsoft Power BI can handle those subjects too.
Once you've determined what information you'd like to share, you can display directly on your company SharePoint, Teams, your business' website, or save later for a presentation. However you use Power BI, you'll be sure to wow your team and clients with your incredible analytics wizardry. Contact your tech team today to talk about how Power BI can benefit your business!