Office 365 Outlook Training Guide
Outlook is one of the most commonly used business applications on the market, it's also one of the most underutilized. Even though it's used nearly every day, many people have never tapped into all the tools available on this communication platform. But chances are you've seen someone who has pulled a crazy Outlook trick out of their hat and were left wondering how they did that! We've compiled a few tips for getting the most out of your Outlook.
Messaging
Efficiency
Feel like you're typing the same simple email over and over again? Outlook lets you save templates for quickly composing messages that you send on a regular basis. From the "New Message" screen you can view existing templates or add new ones. Perfect for that quick response before you run out the door.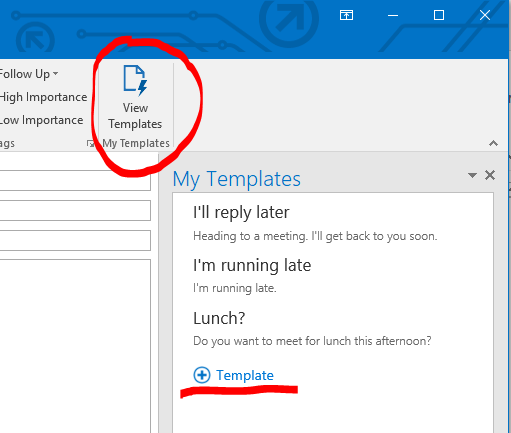 Outlook also makes managing emails easy by allowing you to assign policies for how long to keep emails as you're sending them. Set up auto-deletes for anything from 30 days to 5 years to never and then set a reminder to follow up on a certain day.
Attachments
You can send more than just your typical file attachment. From the "Insert" tab In your new message you can send other Outlook items, virtual business cards, and calendar events. While in this tab you can create new charts using an Excel app within the message, you can draw shapes, screen shot your desktop screen, and insert equations. We've come a long way from simple mail messages.

Creating a Signature
Create a new message and go to the "Message" tab. From that tab click Signature > Signatures and a new window will open for you to create a new email signature. You can pick your font type, color and size, add pictures, hyperlinks and your company logo.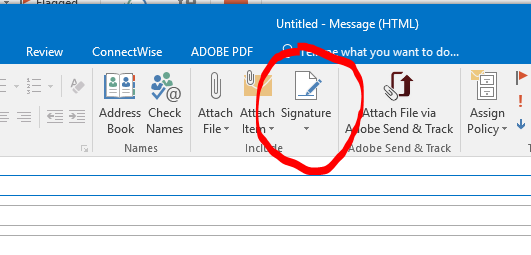 Mailboxes
Adding multiple mailboxes
These days it's common for people to have two or more email accounts, maybe one personal and another professional. It's easy to confuse your passwords or forget which account you sent an email from. In Outlook you can have all of those accounts easily accessible in one app, even if one is a Gmail account. Simply go to File > Add account and enter your credentials. All your mailboxes will be visible in the left pane.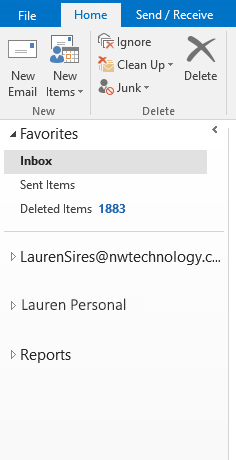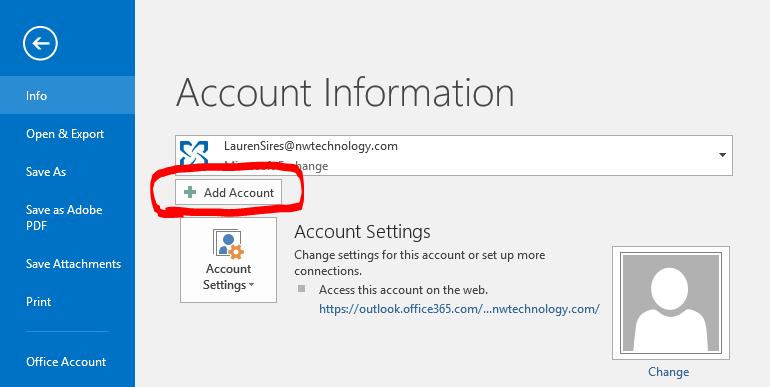 Shared mailboxes vs. distribution list
Sometimes in a business setting multiple people need to access the same mailbox, maybe it's a way of receiving customer orders or automated reports that need to be viewed by a group of people. This can be accomplished in two ways: with a shared mailbox and/or a distribution list
With a shared mailbox you're giving everyone access to the same emails.  When one person opens an email it is marked as read for everyone, if an email gets deleted, it is deleted for everyone. This can be helpful for voicemail boxes or e-fax, because it's easy to tell if a message has already been opened by someone else. These emails are kept in a mailbox separate from the user's individual account.
Only an admin on your exchange account can set up these shared mailboxes. Not sure who the admin is on your account? Check here.
Shared mailboxes are free with an Office 365 account, because a shared mailbox isn't really an independent mailbox. But because it's not an independent mailbox it's not accessible from a mobile device. You can make it an independent mailbox, but it will cost about $4 a month.
Your second option is using an Office 365 Group. In this case, everyone gets their own copy of the email sent straight to their individual mailbox. In this instance those who received the email wouldn't know whether or not anyone else has read it. Like shared mailboxes, only your Admin can create an Office 365 group.
Organizing your mailbox
Office 365 does a great job of making their tools customizable to suit each individual's different organizational needs. Some people need a tidy, hyper organized mailbox, and others have every email they've ever received sitting in one folder. Whatever side you fall on, there are organizational tools for you.
From the "View" tab, you can customize how your messages, to-do lists, calendar events and contacts appear on your screen (or if they appear at all). You can also change how conversations are viewed. Check the "Show as Conversation" box to consolidate replies on a particular thread into one message in your mailbox that expands to show all replies individually. This is an easy way to keep all emails relating to one topic grouped together.
If you're someone who likes everything filed away in a specific folder, you can create rules to auto file (or auto-delete) messages based on who they came from, what the subject says, and also specify how Outlook will notify you when those messages hit your mailbox. If you right click on a message, you'll find tons of options like assigning policies for how long to hold onto messages, "reply and delete" functions, or send to junk.
There are a multitude of tools you can use to organize your mailboxes. If you right click on a message you can also flag emails for follow-up and create a to-do list for later, you can also categorize messages into groups to make searching easier later.
Pro-Tip
Did you know you can silence conversations in your email similar to silencing text message threads? Right click on a message and hit "Ignore" and any further conversation on that thread will auto-filter to your trash folder. You're welcome.
Searching
Searching your mailboxes goes far beyond the search box at the top of your mailbox. You can search by category, things you flagged as important, subjects, content, the list goes on. When you click on the search bar at the top of your mailbox a new "Search" tab appears. Under this tab you get dozens of options to filter your mailbox. You can search by who sent the email, the subject, whether or not there was an attachment and more.

Getting into the "Advanced Find" under "Search Tools" you'll end up with even more filtering options. Outlook will also save a history of your recent searches for a short period of time, but note that it is the search criteria that is saved, not the results, depending on whether you'd received or deleted emails since that last time your search.
Calendars
The basic functions of Outlook's Calendar are pretty straight forward. Calendar allows you to create appointments and meetings, invite others to attend, and set reminders so you don't forget to show up. You can organize your calendar into a variety of views for easy access, day view, week view or month view. You can display multiple calendars next to each other or over the top of one another, for example you can keep your personal appointments and business appoints in separate calendars but view them next to each other when necessary.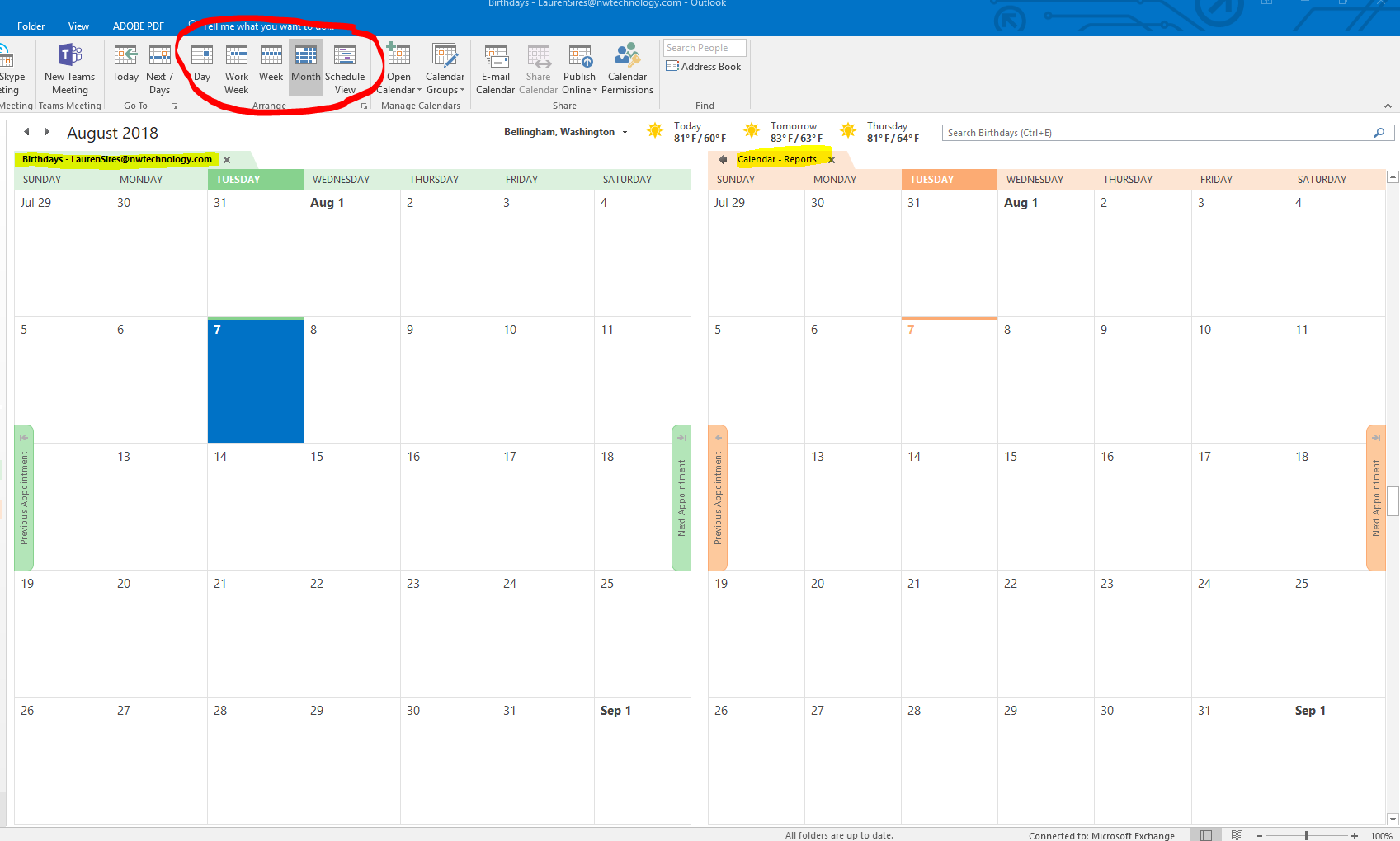 Organizing Calendars
Multiple Calendars
Like your mailbox, Outlook allows you to be as organized or free-flowing as you'd like with your calendar. By default your appointments are put in your main calendar called "Calendar," but you can create as many different calendars as you'd like, for example "Personal Appointments" and "Work Meetings."
From your left panel you can check which calendars are visible and use this quick access arrow to view them side by side or over the top of each other for easy comparison.

If multiple calendars aren't your thing, use the categorize function to similarly break up your appointments into different color categories for easy identification. Categorize is available when creating a new event or by right-clicking an existing event.


Calendar Groups
You'll see all of your calendars on the left pane of your calendar screen organized in "Calendar Groups." Calendar Groups are essentially folders that organize all of your calendars; two pretty generic ones are "My Calendars" and "Shared Calendars."
Pro-Tip
Outlook comes preset with a calendar specifically for "Birthdays" that you can fill in with the most important ones so you never show up empty handed.
But like much of Outlook's tools, the power comes when you begin to use them to collaborate.
Shared Calendars
Similar to a shared mailbox, shared calendars allow for a group of people to see the same series of events. This is different from inviting individuals to a meeting because all are viewing the same calendar versus multiple calendars displaying the same information.
For example, your sales team is frequently out at networking meetings. But you want your coworkers to be aware of when each other are or out of the office, without constantly notifying everyone when their schedule changes. You can create a shared calendar between your team where they can add and edit their own meetings for other team members to reference, but not be bogged down with constant update notifications.
You can set individual permissions within that calendar, such as allowing them to add their own events but not edit or delete others.
This is just the tip of the iceberg for Outlook.  Luckily, Microsoft has a ton of resources available online to help you get the most out of your Office 365 tools. NW Technology also offers monthly Office 365 training sessions to our Service Agreement partners. Not a service agreement partner? Shoot us an email!